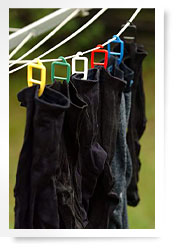 Easy to use
When you take off your socks, join them together with a Supi Sock Holder before throwing them into the laundry basket.
And when you load the washing machine, you can put socks in with their holders. The sock holders will keep each pair of socks together during washing.
When you hang the socks to dry, you can either hang them from the holder hook or hang them on either side of the clothesline.

> Click here for more detailed instructions.